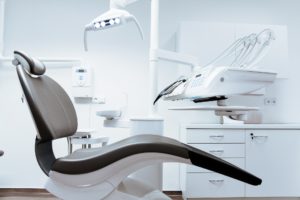 During the COVID-19 pandemic, many people have taken to disinfecting and wiping down delivery packages, doorknobs and other surfaces and objects that are frequently touched. Proactive cleaning and disinfecting is not just taking place at home – your dentist and dental professionals are also taking extra measures to ensure their office is as clean as possible to protect both patients and themselves. However, cleaning a dental office is not as simple as spraying disinfectant to kill germs that spread Coronavirus. Keep reading to learn about some of the many steps your dentist in Denton is taking to eliminate the possibility of infection.
High Sanitation Standards Always in Place
First, it is important to know that your dentist's office already followed strict sanitation protocols even before the current COVID-19 health crisis. Existing sanitation and safety guidelines from the American Dental Association (ADA), the Occupational Safety and Health Administration (OSHA) and the Centers for Disease Control and Prevention (CDC) all provide a solid foundation on which your dentist in Denton can build during these uncertain times to ensure patient safety.
Frequent and Thorough Cleaning
According to new guidance released by the federal Centers for Disease Control and Prevention, dental professionals should first use cleaners and water to pre-clean frequently touched surfaces or objects. Next, they should apply an EPA-registered, hospital-grade disinfectant to these surfaces and objects to thoroughly clean and disinfect them. This type of routine cleaning should be performed after each and every patient in order to maintain a safe and clean environment. In addition, many dental practices are executing a deep cleaning of the entire office at the end of the day. Frequent and thorough cleaning by your dental care team helps ensure your dentist's office is one of the cleanest public spaces around!
Personal Protection Equipment
The updated guidelines from the CDC also recommend that all dental professionals wear appropriate personal protection equipment (PPE) to reduce the likelihood of infectious disease transmission. The next time you visit the dentist, do not be surprised if the entire dental team is wearing all or some combination of these PPE items:
Surgical masks – ASTM Level 3 masks protect against tiny liquid particles that can spread disease.
Eye protection – Googles and/or full-face shields protect from any saliva droplets that may splash up during dental procedures.
Protective gowns – Plastic gowns also protect against bodily fluids and are typically discarded or disposed of after each procedure.
Gloves – In addition to frequently washing their hands, your dentist will likely wear disposable gloves while checking your teeth.
Now more than ever, it is critical to take care of your oral and overall health. Putting off your next dental checkup can allow small issues to grow into big dental problems later down the road that require urgent care from an emergency dentist in Denton. Talk to your dentist today about what dental safety protocols they have put into place and whether they are ready to welcome you back safely.
About the Author
Dr. Todd Balington has over a decade of experience helping men and women reach their smile goals and maintain good oral health. He and the team at Denton Dental Center are taking all the extra sanitation steps necessary to protect patients and themselves during the COVID-19 pandemic. To keep up to date with the latest health and safety notices from Denton Dental Center, visit their website or call Dr. Balington at 940-383-3300.