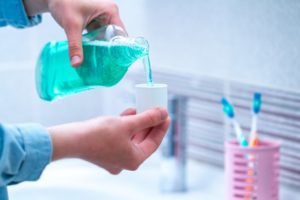 Most of us have grown up with the knowledge that we should brush our teeth after every meal, or at least twice a day. While many of us might not floss every single day, we typically make time for it at least a few times a week. However, there is no widely known standard of how often we should rinse with mouthwash. Because of this, a lot of people only use it before important events like job interviews. But how much mouthwash should you be using? Read on below as a dentist in Denton answers this question.
Health Benefits of Mouthwash
You probably use mouthwash in situations where you want to smell your best, like before a date, or after you've eaten something particularly odorous, like food with garlic or onions in it. However, it can do a lot more than just improve your breath. In fact, there is a direct correlation between mouthwash and oral health.
Your toothbrush and floss can only clean so much of your mouth. Bacteria can accumulate in these other areas and contribute to tooth decay and gum disease, both of which can have dangerous consequences. For example, gum disease can weaken the gums to the point that your teeth loosen or even fall out. Mouthwash can reach in between the teeth and even in the gum tissue to kill these bacteria and protect your health.
The Best Way to Use Mouthwash
Each time you use mouthwash, you should pour out approximately 20 mL or four teaspoons. Many mouthwashes come with a lid that can hold about this much.
Read the instructions on the label to find out whether you should rinse before or after brushing your teeth. It's important to swish with it for at least 30-60 seconds so that it can clean all the areas of your mouth, especially the parts that your toothbrush and floss can't reach.
Is Mouthwash Safe for Children?
Mouthwash is generally not recommended for kids under the age of six. Not only do a lot of mouthwashes contain fluoride (too much of which can cause fluorosis, or teeth stains later in life), but your child may have a hard time getting used to spitting out the liquid instead of swallowing it. If your child is between the ages of six and twelve, ask their dentist whether it's safe for them to add mouthwash to their oral hygiene routine.
For most people, mouthwash is more than just a great way to freshen your breath. It can also reduce your risk of certain oral health problems. Ask your dentist for recommendations on which types of mouthwash would be best for your unique smile.
About the Author
Dr. Todd Balington is a dentist in Denton, TX who earned his Doctor of Dental Medicine degree from the Nova Southeastern University College of Dental Medicine. He's a family dentist with a particular passion for children's dentistry and seeing little smiles grow up to be happy and healthy. Additionally, he is more than happy to suggest certain mouthwash brands that can help you achieve your healthiest smile. To learn more, visit Dr. Balington's website or call (940) 383-3300.