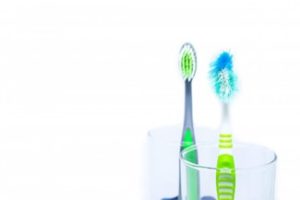 When was the last time you bought a new toothbrush or replaced your electric toothbrush head? Some are slow to replace their toothbrushes in a timely manner because they're not sure what kind they need, while others just don't see why changing them within a specific timeframe is important. Keep reading to learn when you should make the change, why it's important to your oral health and how your dentist in Denton can help.
How Often Should You Change Your Toothbrush?
The ADA recommends replacing your toothbrush every 3 months, but statistics show that the average American only replaces it every 6 months! Studies have shown that after about 3 months, the bristles of your toothbrush become frayed and less effective at removing plaque and bacteria from your teeth and gums. If you get sick or have had certain dental work done, your dentist may recommend that you replace it more frequently.
What If You Don't Replace It Every 3 Months?
While most people rinse their brushes after using them, many do not think to cover them and store them in an upright position. Over time, the bristles will collect germs and can even develop fungus. If your toothbrush is stored uncovered near a toilet, even more unwanted particles can cling to the bristles. Another risk of not replacing a toothbrush frequently is damaging your gums. If the bristles become less effective in the removal of plaque, it can lead to gingivitis or more serious conditions that can lead to tooth loss.
What Should You Look for When Replacing Your Toothbrush?
Manual toothbrushes are definitely capable of removing plaque and bacteria, but studies show that electric toothbrushes can clean your teeth more effectively, help reduce gingivitis and minimize dental stains. When it comes to bristles, most dentists recommend selecting soft fibers, because hard bristles can damage your enamel and gums. Another aspect to be aware of is the shape of the toothbrush head. A rounded or diamond shape will make it easier to reach the surfaces of your molars. You should also make sure you are able to brush one or two teeth at a time.
Dental care is not a one-size-fits-all practice; everyone's dental needs are different. If you're uncertain about what your specific needs are, it's a good idea to ask your dentist for guidance on which products you can use to keep your mouth healthy and help give you a bright, dazzling smile.
About the Author
For over a decade, Dr. Todd Balington has provided his patients with personalized, high-quality dental care. As a family dentist, he customizes treatment for patients of all ages and takes time to build honest, trustworthy relationships. Dr. Balington enjoys providing patients with restorative dental treatments, but he has a particular passion for helping children learn proper dental hygiene. If it's time for a checkup or dental exam, contact the office at (940) 383-3300 or visit the website to schedule a visit today.