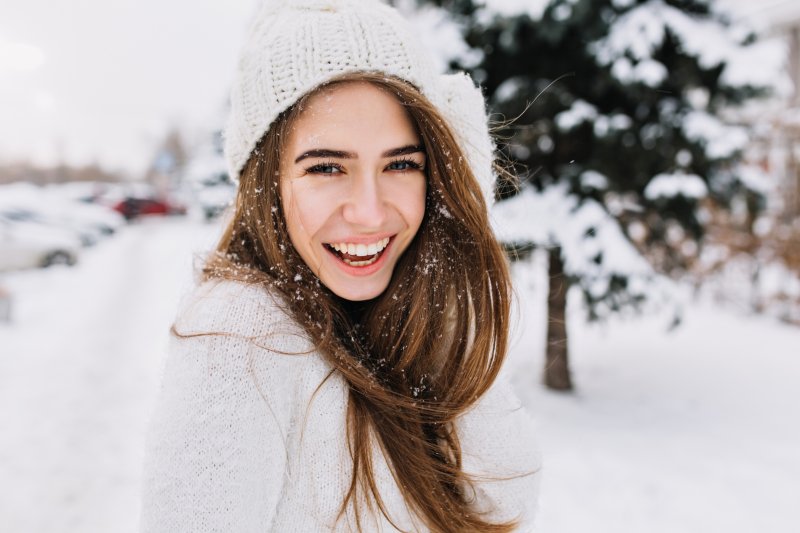 It's official: winter is here! While you're out getting flu shots and buying lotion, you might also want to spare a thought for the ways that cold weather can affect your oral health. As it turns out, winter air can cause quite a few issues for your teeth if you aren't properly prepared. If you're wondering how to keep your oral health in good shape once temperatures start to drop, here are a few of the most common problems, and what you can do to prevent them.
Dry Mouth
As you may know, winter air tends to be much drier than that of other seasons. This is why most people ramp up their skincare routines when December rolls around. However, that same dry air can cause problems for your oral health by sapping the moisture out of your mouth.
Normally, your mouth uses saliva to carry food particles into the stomach. When your mouth dries up, it disrupts natural saliva production, which means those bits of food stay in the mouth much longer, feeding bad bacteria in the mouth. Over time, this can lead to gum disease and tooth decay.
If you're concerned about your mouth drying out this winter, you should make it a priority to stay hydrated. That will compensate for the drier air, giving your salivary glands the moisture they need to operate efficiently.
Dry Lips
While you may not normally think about the way dry air affects your salivary glands, you're probably well aware of the fact that it can seriously chap your lips. Your lips have some of the thinnest skin on your entire body, so they're particularly susceptible to winter weather. In addition to staying hydrated, it might be a good idea to pick up a lip balm with SPF protection to protect this sensitive skin.
Temperature Sensitivity
If your enamel's a little bit thin, your teeth might be unnaturally sensitive to hot and cold. You might notice a sting when you step outside, or when having a sip of hot cocoa. If this is bothering you, try brushing with fluoride toothpaste designed for sensitive teeth—these contain compounds that can dull the pain of temperature sensitivity.
Winter is a beautiful season, and you deserve to enjoy it to the fullest. With the above tips in mind, you'll be able to do that without compromising your oral health.
About Our Practice
At Denton Dental Center, we want to help your entire family reach their smile goals. Because every patient has vastly different needs, we take the time to listen carefully to what it is you're having trouble with, and we'll develop a personalized treatment plan tailored to you. Whether you're dealing with a toothache, an aesthetic issue, or it's just been a while since your last check-up, we're happy to help you with whatever problem you or your family members are facing. If you have any questions about how to protect your oral health when the temperature drops, we can be reached at our website or by phone at (940) 383-3300.