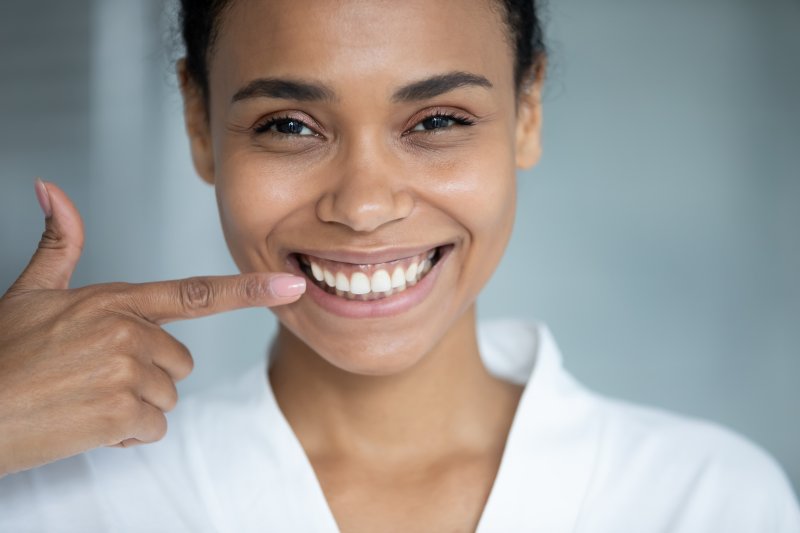 Often enough, you'd want dental implants to replace your missing teeth. After all, the restorations are great at restoring grins – they even have a success rate of 95%! That said, you may wonder if they work for a lost front tooth (or two). Can implants serve as replacements for incisors, not just molars? Fortunately, your local Denton dentist is here to answer your question. To that end, here's how implants can replace front teeth and the benefits this process offers.
Can Implants Replace Front Teeth?
Simply put, yes – implants can (and will) replace a patient's front teeth. While forward-facing kinds aren't as common as the others, they do exist.
Dentists place front tooth implants the same way they do posterior ones. Namely, they use precise tools to insert the prosthetic into the jaw socket. From there, bone tissue will slowly grow and keep it in place. Once that fusion is done, the dental team will place the abutment and crown.
The biggest treatment difference is that you'll want the best dentist for the job. Front-facing teeth are obvious, so finding the right specialist will make your results look fantastic.
What are Dental Implants' Other Benefits?
Of course, implants can do more than replace front teeth. They have various other benefits too. Common ones include the following:
A Pretty, Restored, and Straight Smile
Implants fully restore your cherished grin, whether you get them for your mouth's front or back. Their features let them look and act like natural teeth!
This effect partly stems from the implants' materials. Their titanium posts, for example, ensure they fuse with your jaw and remain stable. On the other hand, their crowns blend with your other teeth in color, size, and shape.
Implants' lifelikeness even makes your other teeth look better. By fusing to your jaw, they keep the surrounding chompers from tilting.
A Stronger Jaw & Younger Face
Losing teeth isn't only harmful to smiles. In fact, the condition will age your face if you don't stop it.
The issue is that your jaw needs teeth to maintain itself. Without the stimulation of a full smile, its bone tissues erode over time. Left untreated, that erosion could trigger a facial collapse and age your face.
However, the reality is that implants prevent (and reverse) jaw erosion. Due to fitting in your jaw sockets, they maintain and grow your jawbone's tissue. They'll thus give you a firm, young-looking face.
As you can see, there's good reason to get dental implants for front teeth. Therefore, talk to your local practice about treatment options!
About the Practice
The Denton Dental Center is based in Denton, TX. Led by Dr. Todd Balington, our practice offers warm, comprehensive dentistry for all ages. As such, we perform various preventive, cosmetic, and restorative treatments, including emergency dental procedures. You can even count on us for quality dental implants for your smile! For more information or to book a visit, you can reach us on our website or by phone at (940)-383-3300.