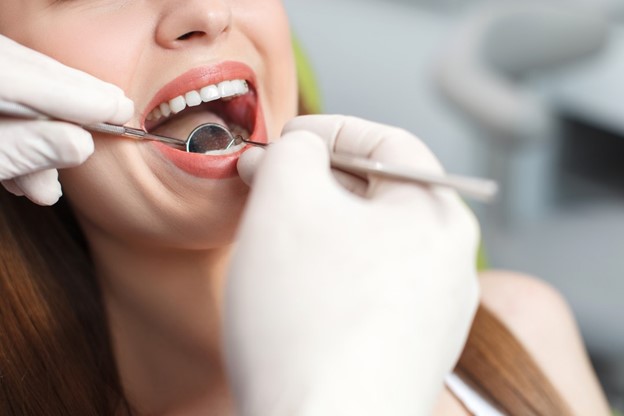 Oral cancer is a serious and often life-threatening disease that affects millions of people worldwide. It can develop in any part of the mouth, including the lips, tongue, cheeks, floor of the mouth, and throat. According to the Oral Cancer Foundation, nearly 54,000 Americans will be diagnosed with oral or oropharyngeal cancer this year alone. Fortunately, early detection and treatment of oral cancer can significantly improve a patient's chances of survival. Keep reading to understand the risk factors, symptoms, and prevention tips to minimize your risk of developing this disease.
The Purpose of an Oral Cancer Screening
Oral cancer screenings are a crucial aspect of preventive dental care that involves the examination of the mouth, throat, and surrounding tissues to detect any signs of cancer or precancerous conditions. The purpose of an oral cancer screening is to identify any abnormalities early, when they are most treatable, and increase the chances of successful treatment.
An oral cancer screening is usually done during a routine dental checkup and is a painless, non-invasive procedure that only takes a few minutes. By detecting oral cancer early, your dentist can recommend prompt and appropriate treatment to improve your prognosis and increase your chances of recovery.
What to Expect During an Oral Cancer Screening
During an oral cancer screening, your dentist or oral health professional will examine your oral structures for signs of cancer or precancerous conditions. The screening is a painless and non-invasive process that can be done during a routine dental check-up.
Your dentist may ask you about any recent changes or symptoms you have noticed in your mouth, such as lumps, sores, or red or white patches. They may also feel your neck and jaw for any lumps or swelling. The goal of an oral cancer screening is to catch any potential issues early, so they can be treated promptly and effectively.
Moreover, a VELscope, a unique screening tool, may be utilized to identify any precancerous cells that are invisible to the naked eye. If any worrying irregularities are detected during the screening, your dentist may conduct a biopsy and send a sample to a lab for further testing.
Regular oral cancer screenings are an important part of maintaining good oral health. By detecting any abnormalities or precancerous cells early, your dentist can provide you with the appropriate treatment to prevent the spread of cancer and maintain a healthy mouth!
About the Practice
At Denton Dental Center, maintaining optimal oral health is their top priority. They are a top-rated dental practice in Denton, TX that's dedicated to providing exceptional dental care to patients of all ages. Their team provides comprehensive dental services, including oral cancer screenings to detect this condition early on. They also place significant emphasis on patient education on how to minimize the risk of oral cancer. If you are experiencing dental issues or would like to schedule an appointment, visit Denton Dental Center's website or call their office at (940) 383-3300.