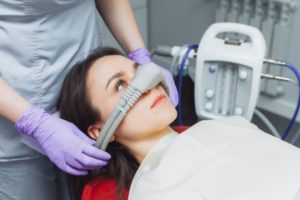 Sedation dentistry has been used for over 100 hundred years. Whether you suffer from dental anxiety, need to have a long dental procedure, or need multiple treatments at one time, sedation options like nitrous oxide can help with a wide variety of issues. But does dental insurance cover it? Read on to learn the answer and other financing options for caring for your smile.
Is Sedation Dentistry Covered by Dental Insurance?
Dental insurance covers a wide range of treatments and procedures so you can maintain and treat oral health issues and needs. However, since dental sedation is considered a non-essential service, it is not usually covered by dental insurance. Even if you suffer from dental anxiety, most policies will deny a request to cover sedation when you receive a treatment or procedure.
The good news is that there are certain exceptions to the rule. Your dental insurance company may approve covering your dental sedation if:
You need a complex or extensive dental procedure, like oral surgery or tooth extraction.
You have a medical condition or disability that makes it hard to remain seated for a long period of time, causing you to be unable to receive certain treatments without sedation.
Incorporating sedation into a required dental treatment plan could reduce the overall price.
What Are Your Other Options to Lower Out-of-Pocket Expenses?
Even if your dental insurance doesn't cover getting anesthesia during a treatment or procedure, the good news is that there are other possible payment options! By speaking with your dental team, you can explore what will allow you to care for your smile while also being comfortable and at ease. They can provide specific details about what they can do to help you pay for your out-of-pocket expenses. Many dental practices offer third-party financing. Companies like CareCredit allow you to conveniently split up the total price into smaller monthly installments. The bonus is that they require little-to-no interest so your dental care should not put you in a compromised financial situation.
Even though your dental insurance may not cover a treatment or procedure you need, there are ways to take care of your oral health and not break the bank. By speaking to your dental team to discover your financing options, you can get the healthy, beautiful smile you deserve!
About the Author
Dr. Ted Balington and his team at Denton Dental are eager to help you keep your oral health in top condition. He earned his Doctor of Dental Medicine at the Nova Southeastern University College of Dental Medicine and has been treating people's smiles for almost 20 years. By offering a comprehensive range of services, including sedation dentistry, he can help keep your teeth and gums healthy as you remain comfortable and at ease. To schedule an appointment and find out about financing options, contact him through his website or call (940) 383-3300.